Quality is the most important factor for us in production and service as well. The products are manufactured in compliance with specified standards.
We process approximately 40,000 tons of raw materials per year.
The materials used are galvanized steel, aluminium, titanium-zinc, copper, stainless steel and, of course, painted galvanized sheet-metals and aluminium sheets with a long-term quality guarantee.
Description and production possibilities of the unit
The company DALEX developed for us a special single-purpose welding unit for resistance seam welding, together with tools for positioning and clamping semi-finished products for partially automated welding of offset elbows.
The system consists of a DALEX seam spot welding machine, type PMS 14-6, designed for resistance seam welding, as well as of a clamping device the movements of which are controlled by a servomotor. The upper welding pulley is rotating, the lower inner electrode has a 3D geometry in the shape of "S", including a rotating holder for clamping, which is used to position semi-finished products. The movement of the unit cover is pneumatically controlled and opens before the operation and closes during the operation automatically.
Replaceable parts allow for processing the offset elbows of diameters 80, 100 and 120 mm.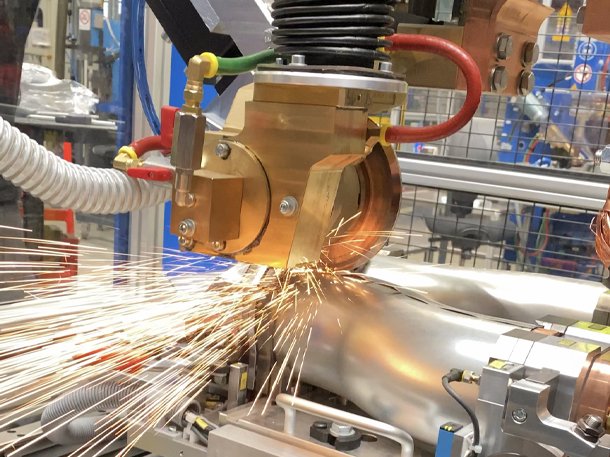 Working operations and attachments
After inserting and clamping the two parts of the elbow into the positioning device, the upper rotary welding electrode performs pre-dotting according to the set trajectory and the number of points, and then performs a strength continuous seam weld.
In addition to the control of all welding parameters and the parameters of setting and controlling the movement of the unit, the path control is also programmed so that the upper disc electrode perform the given S-shaped path during welding smoothly and without problems.
On the resistance seam welding unit there is also a trimming and cleaning device with suction designed for the upper disc welding pulley, ensuring that the shape of the pulley and subsequently also the seam weld of the welding elbow is constant and clean.
Plans for future
With respect to our goal to continue in further improvement of the product quality, the company DALEX will soon produce and supply us the third single-purpose welding unit with two spotting cylinders in the original design for welding rafter hooks.
The used DALEX resistance welding technology is in line with the current concept, which confirms the fact that the company can sell high-quality KJG products on the world markets.
Both the systems, such as resistance seam welding of offset elbows and resistance spot welding of rafter hooks, are much more economical than previous arc welding and spot welding.